This week's 5 Fandom Friday topic is Five Times I Totally Fangirled. It doesn't take a lot for me to fangirl. Being in the same state as someone (which I frequently am, because apparently Utah is a prime place to film stuff… who knew?) makes me squeal. So here are the stand out Fangirl moments for me.

5. Finishing NaNoWriMo for the first time
This was a big accomplishment for me. While the story is crap (most NaNos are) completing a 50,000 word novel in 30 days is nothing to snub your nose at.

4. Seeing "Promises, Promises" on Broadway
When I went to New York for the first time 5 years ago, I was just excited to be in the city. My mom took me to the Stardust diner, we went to Central Park, and in general just walked around the city. Then we made our way down Broadway and I was bouncing around like an idiot. Just being there made me excited, but when my mom handed me a ticket to go see a pre-show of Promises, Promise starring Kristin Chenoweth and Sean Hayes, I just about died. Not only was I getting to see a show on Broadway, but was a show featuring one of my favorite broadway actresses. Needless to say I was kind of crazy the whole time we were there.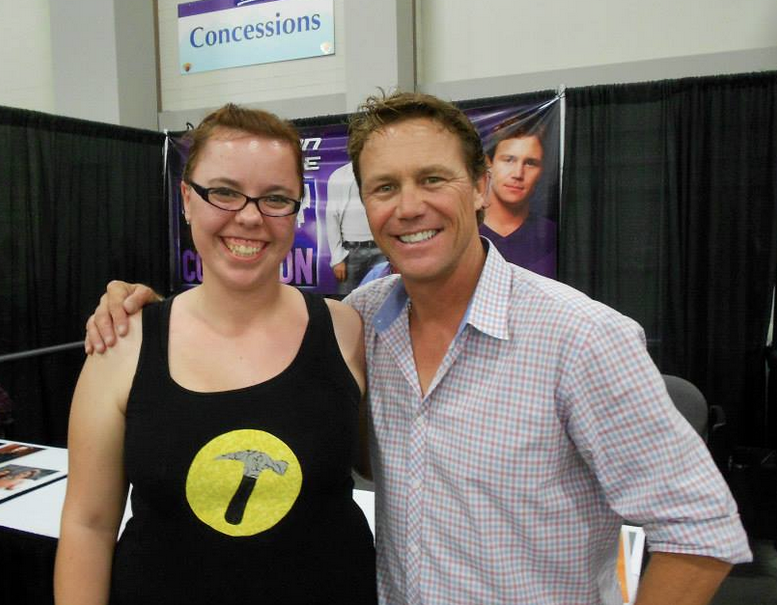 3. When I met Brian Krause
Growing up, my mom and I had our family night on Thursdays. Because on Thursdays was Gilmore Girls and Charmed. She and I would make dinner and watch these two shows together, just the two of us. It was always my favorite night of the week. Fast forward to September 2013, Salt Lake is hosting their first Comic Con and guess who showed up… Brian Krause, aka Leo Wyatt. As soon as it was announced I was bouncing around my home squealing. On the first day of the con I was too starstruck to really go see anyone. I mostly just walked around the floor in giddiness. But on the second day I got up the courage to go get Brian's autograph and picture. Let me tell you, he is just as adorable and charming in real life.

2. Meeting Aaron Douglas
A few months before the 2014 Salt Lake Comic Con's FanXperience I had just finished watching Battlestar Galactica. I was still having feels and couldn't quite make sense of them, but when I found out that Aaron Douglas was going to be there, I thought "Heck YES! I get to meet Chief Tyrol!"
That whole day was a mix of exhaustion and excitement, but when I met Aaron, something insane (to me) happened. I decide that day to wear a BSG shirt that was created by Her Universe (they are no longer made 🙁 ), that had a glowing red spine down the back. Now if you have ever seen BSG you know, that the main time a Cylon's spine glows red is when they're… ahem… excited.
After getting his autograph, I asked if he would take a picture with me and he kindly agreed. The picture was taken and afterward he steps back and says "Is that what I think it is on your back?" I laughed and said "Yes, yes it is!" He then proceeded to turn me around and show the rest of the people standing in line and announce "This is a girl that is having sex all the time. That's my kind of girl!" I blushed… a lot! Its now one of my favorite Con stories.
1. Getting my picture taken with Nathan Fillion and Adam Baldwin.
Shortly after getting my picture with Aaron (definitely after the blushing in my face calmed down) my friend asked me if I would like to be included with her and her husband in their photo-op with Nathan Fillion and Adam Baldwin. Let me tell you guys, I have some pretty amazing friends. At that same time was a photo-op invitation with one of my other friends to get a picture with Karen Gillian… DILEMMA! Ultimately, I chose Nathan because I've been more attached to him longer. We stood in line for what seemed like forever and as our turn approached I could not stop beaming. The picture took probably like 10 seconds but I was floating for a good few hours afterward. I clearly easily star struck.
What are some times that you totally fangirled/boyed?