Anyone ever tell you you're overly enthusiastic? I openly admit it. I often refer to myself as someone who is overly enthusiastic about a lot of thing all at once. While some could see that as a bad thing, I choose to see it as a good thing.
When I see/read/watch/experience something I like, I tend to like to repeat it. Over. And over. and over again. This is a list of things I am "overly enthusiastic" about this week: (chances are, it'll change next week)
** This post contains affiliate links all marked with a *
---
NerdyAlerty's New Look
It isn't a dramatic change, but it is a change that I needed. Sometimes to get back in the swing of things, you just need to update some things. I created the above banner on my own (via a tutorial I found here) to fit more with the motto of this blog "a girl with a neon sign above her head blinking 'Nerd Alert'"
---
Cinnamon Pork Rind Cereal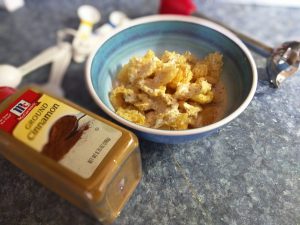 I KNOW! That sounds SO gross. But, it's delicious. As someone who is on the ketogenic diet, I don't have access to my sorely missed cereal (I could easily have eaten cereal for every meal pre-Keto). It's been bacon and eggs every morning. I've been missing that crunching morning treat, so I found a recipe in Wicked Good Ketogenic Cookbook* that sounded promising. GUYS, IT'S SO GOOD! Somehow, the mixture of the ingredients used totally mask the fact that you're eating pork rinds. (here is a similar recipe from Ruled.Me)
---
Ed Sheeran's New Album: Divide

I've never disliked Ed Sheeran, I found his music to be very good most of the time. It wasn't until this album that I fell in love with his music. The thing that I love so much about this album is all the Celtic influences in all the songs. You can listen to Divide on Spotify, I highly recommend "Galway Girl" and "Nancy Mulligan" . /swoon
---
Fan Xperience Memories
This slideshow requires JavaScript.
A few weeks ago was Salt Lake's Fan Xperience convention. This is our "small" convention of the year. And by small they mean same amount of people, small space. There are always things that this con can (and should) do to improve, but I always end up having fun. This year I took my mom on Friday so that she could meet Leo and Piper from Charmed and that was a lot of fun. In addition to that, meeting and hugging Zachary Levi and Jason Momoa was pretty much as great as you could imagine. See the pictures above for proof of said fun. 😉
---
Empire of Storms Audiobook
One of the ways I make my day go by faster is to listen to audiobooks. I usually opt for those that are "Whisper-sync" enabled on Kindle, but I could not wait any longer. I've had many a friend tell me I needed to read this series, and one day they were all on sale. I quickly gorged on them and fell in love with Aelin, Dorian, Manon, Chaol and all the other characters. So when the new book came out I bought the e-book in hopes the whisper sync would be available… It was not. This week I finally couldn't stand the wait any longer and caved and bought the audiobook* (with a little help from Audible).
---
What are some things you're excited for this week?