Well I've been sick most of this week and thus I haven't really had much to be excited about since after I get home from work I have just been going straight to sleep. BUT, there are a few things that I have gotten super excited about in my slightly drugged up state. Check out this week's Thursday and Thrilled!
---
TELEVISION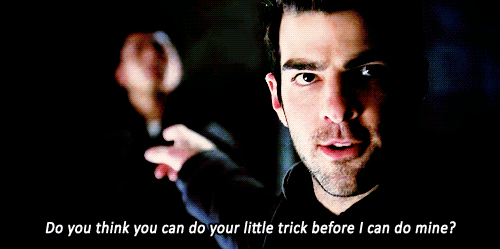 Heroes
Last week I talked about how excited I was for Heroes Reborn to come to my TV this fall. Well, in preparation for that, I started my Heroes rewatch. I FORGOT HOW AWESOME THIS SHOW WAS (in the beginning). I originally started watching it in it's early second season when it first premiered (because it was right after Veronica Mars ended and I was in serious need of some KBell on my screen) and fell in love with it. I started watching it last Friday and due to being sick most of the weekend I am already on Season 3. Huzzah for sick binge-watches!
---
NERDY 5k
On August 1st is my next 5k. I haven't been training as much as I should so if I match my time from the last run I'll be happy. This run is Harry Potter themed, so watching people run around on broomsticks (yep, that happens) will be very fun. Plus they give us cake in honor of Harry Potter's birthday the day before. Does it kind of defeat the purpose? Probably, but it's CAKE!!!
I've also started working on my costume for the Gamer Dash in October. It will double as my costume for Salt Lake Comic Con and Halloween too!
---
STYLE

We all know that TeeFury is amazing for nerdy t-shirts, but they have recently started branching out to other things. From shirts to shoes and even posters. But what I'm making serious grabby hands at recently are the skirts. I'm not much of a leggings girl, but LOOK AT THESE SKIRTS!!! I NEED THEM IN MY CLOSET.
---
PETS
As if I don't post enough pictures of my cats on the internet, I recently bought some Star Wars themed cat toys and Wicket (as in the Ewok) just adores this Millennium Falcon on a string. She is constantly attacking it, then bringing it back to me to play with.
---
GETTING INVOLVED

I just sent in my application to be an officer for the Salt Lake City Chapter of Geek Girl Brunch. Since I've seen this all over on the interwebs, I've been curious if there was one in my area. Turns out there isn't yet. I'm excited to see what I can help with and hopefully meet some other amazing geeky women! I should rephrase. I'm both excited for the adventure and completely terrified about having to be social…
---
What have you been excited for this week?