Currently`
Reading: The Secret Diary of Lizzie Bennet by Bernie Su & Kate Rorick
Watching: Supernatural ` Season 4
Listening To: You Raise Me Up ` John Barrowman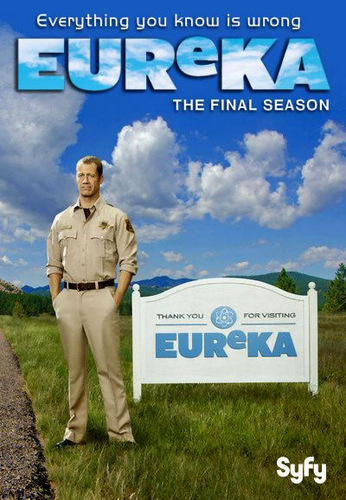 Eureka
Starring: Colin Ferguson, Salli Richardson-Whitfield, Erica Cerra, Neil Grayston, Joe Morton, and Niall Matter.
Aired: SyFy | July 2006 to July 2012 | Five Seasons
About Eureka
With the help of Albert Einstein and other trusted advisors, President Harry S. Truman commissioned a top-secret residential development in a remote area of the Pacific Northwest, one that would serve to protect and nurture America's most valuable intellectual resources. There our nation's greatest thinkers, the über-geniuses working on the next era of scientific achievement, would be able to live and work in a supportive environment. The best architects and planners were commissioned to design a welcoming place for these superlative geniuses to reside, an area that would offer the best education for their children, the best healthcare, the best amenities and quality of life. A community was created to rival the most idyllic of America's small towns – with one major difference: this town would never appear on any maps. At least, none that haven't been classified "eyes only" by the Pentagon.(from imdb.com)

Why I Like It:
I started watching this show after the character Douglas Fargo crossed over to one of my favorite TV shows, Warehouse 13. His character was fairly entertaining and I heard that Claudia Donovan (my favorite character from Warehouse 13) would be guest starring on an episode of Eureka at some point. It took me about 3 months to watch the first season or so. Primarily because it's a bit slow and difficult to follow in the beginning, especially if you don't pay a lot of attention.
After getting over that spell, I started to pay attention a bit more, and began to enjoy the craziness of it all. A show about a street smarts detective getting stuck in a genius town was just the right amount of silly and story that I liked. Colin Ferguson quickly became one of my favorite physical comedians. I don't know if I've seen a show where someone can make me laugh as hard as he does with just his physical comedy. This series also has a great and diverse cast.
In addition to all of the comedy, touching story lines and excellent dialogue. This show has some AMAZING guest stars, including: Allison Scagliotti, Wil Wheaton, Felicia Day, Alan Ruck, Grant Imahara, James Callis, Ming-Na Wen, Michael Shanks, and Stan Lee.
Lastly, unlike most sci-fi series, it ends fairly decently. They were cancelled with enough warning that they were able to tie it up in a nice bow.
True Sci-Fi According to Definition?
Heavy on the Science. Basically everything that happens in this show, however insane, they explain with science. SCIENCE!
Sail That Ship…
The ships to sail are strong with this one.
The Romantic
The primary ship (which is obvious even after watching one episode) was great and easy to get behind. Though personally, I was mostly just wanting the geek (Douglas Fargo) to get a little love. Also, the dynamic between Zane Donovan and Jo Lupo is probably my favorite in any series I've watched.
The Familial
There are many types of families in this show. Jack and his daughter Zoe, Allison and her autistic son Kevin, then you have Henry, who tends to be the dad watching over everyone. The whole town forms this family that you just ache to join, if only for a family dinner or a game of bowling.
Why You Should Try It:
It's a great show that perfectly balances science fiction and silliness. It'll teach you, it'll make you laugh, it'll make you think about your life and it'll make you want more.
How Long Should You Give It:
This one is a bit difficult to digest at first. So I would give it two full seasons. It's a long time, but totally worth it.
Where to Find It:
Streaming
Netflix
XFinity
Purchase
Amazon
iTunes