I really like web-series.
I've discovered that I'm liking them more and more as I explore YouTube.
I enjoy people making their own content. Whether its a re-telling of a classic novel (Emma Approved, Lizzie Bennet Diaries, and The Autobiography of Jane Eyre) or a spoof off a popular TV series (School of Thrones), or even original content (Chronicles of Syntax and Kissing in the Rain). I really enjoy people putting their own spins on stories and telling them through a web-series.
Recently while re-watching Emma Approved for the umpteenth time, I came across an new web series called "Classic Alice". My first draw into this series was actually the adorable logo art.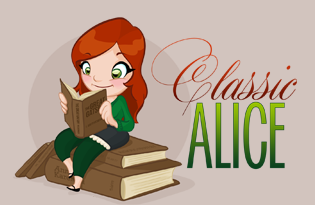 I mean, look at it. It's freaking adorable!
I saw the cute logo and thought, "Hmm… what could this be about?" After reading through the summary, I knew this was a web-series I had to watch.
"When college student Alice receives a bad grade on an essay, she partners with her friend Andrew to film a documentary about living her life according to classic literature."
This just seemed like such a BAD idea, that I had to watch the train wreck.
Lets go through the characters really quick:
Alice Rackham "Super Dork" (played by Kate Hackett) is so adorkable I had no trouble identifying with her quickly. Kate Hackett (who not only stars, but writes and produces the series) wrote a very likable character that the audience can sympathize with easily. Alice is (as she says in the first episode) good. She's a bit naive, and seems to be easily persuaded, but sweet. She's an overachiever and likes it. She knows that she's smart and is proud of it.
In addition to Alice, Kate Hackett gives us Andrew Prichard "Filmmaker, Cool Guy" (played by Tony Noto), the best friend who acts as an audience catalyst. He explains parts of the story that we wouldn't otherwise understand. Additonally he also gives Alice someone to talk to to curb her awkwardness. He and Alice get to play off each other easily and often that it seems to allow the Alice character to relax a lot more.
We've also met Cara Graves (Roommate, Math God, Campus' Dopest DJ) and Josh (R.A., Creeper), but don't know much about either of them just yet. Hopefully that will change in the upcoming season.
With only 6 episodes under their belt (plus 2 prequel episodes, 1 Q&A episode and 2 "extra footage" episodes), Classic Alice has managed to create an amazing world to be involved in. It's a great little series about a girl who just wants to try and experience life.
SO GO. WATCH IT NOW!!!!
[click on gifs and pictures for sources]