My Funko collection is growing. Basically anytime any of my favorite stores have sales, I end up buying a good handful (probably more than I should) of new Pops to add.
A few weeks ago, I swung by FYE and picked up a Dancing Groot Pop [Affiliate Link] and a Crowley Pop[Affiliate Link]. I was excited to finally start expanding my Supernatural collection. I got home and set the figures down only to get distracted for a couple days before I could pull them out. After tossing the bag and setting the boxes on my desk I went about my day organizing my shelves to make room for the newest additions. I was admiring the box and laughed when I noticed that in the picture, Crowley is holding a glass of something, but I couldn't remember seeing that on the figure itself. After a moment I realized the reason that I didn't notice it at first was because the figure I picked up, DIDN'T HAVE A HAND! Having already thrown away the receipt I didn't know what to do. While I'm sure that some stores will exchange it, I wasn't sure if with it being broken that I could return it. So instead, I decided to use this mishap to make something silly.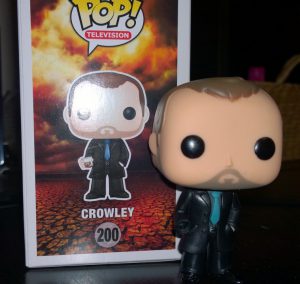 A short (and probably poorly thought out) story about how Crowley could have lost his hand.
Here is what I came up with:
Read More