WARNING: THIS IS BASICALLY A LOVE LETTER TO THIS BOOK AND THIS AUTHOR. #SORRYNOTSORRY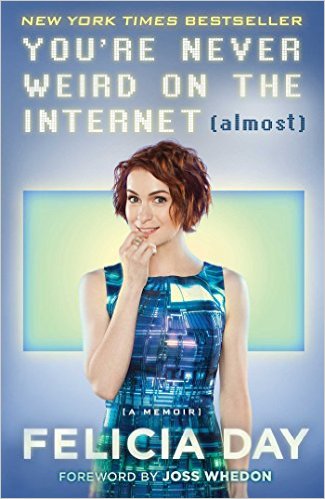 From online entertainment pioneer, actress, and "queen of the geeks" Felicia Day, You're Never Weird on the Internet (Almost) is a "relentlessly funny and surprisingly inspirational" (Forbes.com), memoir about her unusual upbringing, her rise to internet stardom, and embracing her weirdness to find her place in the world.

When Felicia Day was a girl, all she wanted was to connect with other kids (desperately). Growing up in the Deep South, where she was "home-schooled for hippie reasons," she looked online to find her tribe. The internet was in its infancy and she became an early adopter at every stage of its growth—finding joy and unlikely friendships in the emerging digital world. Her relative isolation meant that she could pursue passions like gaming, calculus, and 1930's detective novels without shame. Because she had no idea how "uncool" she really was.

But if it hadn't been for her strange background— the awkwardness continued when she started college at sixteen, with Mom driving her to campus every day—she might never have had the naive confidence to forge her own path. Like when she graduated as valedictorian with a math degree and then headed to Hollywood to pursue a career in acting despite having zero contacts. Or when she tired of being typecast as the crazy cat-lady secretary and decided to create her own web series before people in show business understood that online video could be more than just cats chasing laser pointers.

Felicia's rags-to-riches rise to internet fame launched her career as one of the most influen­tial creators in new media. Ever candid, she opens up about the rough patches along the way, recounting battles with writer's block, a full-blown gaming addiction, severe anxiety and depression—and how she reinvented herself when overachieving became overwhelming.

Showcasing Felicia's "engaging and often hilarious voice" (USA TODAY), You're Never Weird on the Internet (Almost) is proof that everyone should celebrate what makes them different and be brave enough to share it with the world, because anything is possible now—even for a digital misfit. (from Goodreads)
It is no secret to anyone who knows me that I adore and admire Felicia Day. From first seeing her on Buffy as a potential to following her to Dr. Horrible's Sing-A-Long-Blog. I inhale everything she creates, her YouTube channel Geek and Sundry, to her twitter, the admiration has only grown more. When she talked about releasing a book I got STOKED to start reading it. The book released just a couple days before my birthday and put in my Kindle library. But as life does, I got busy and honestly, I forgot about it a little. My dry spell this past year when it came to reading was intense and this book just kept getting put on the back burner (Sorry Felicia! I still love you!).
When  Salt Lake Comic Con announced Felicia was coming, my enthusiasm reignited. I was determined to get a picture with her and have her sign a copy of her book. Which I TOTALLY did!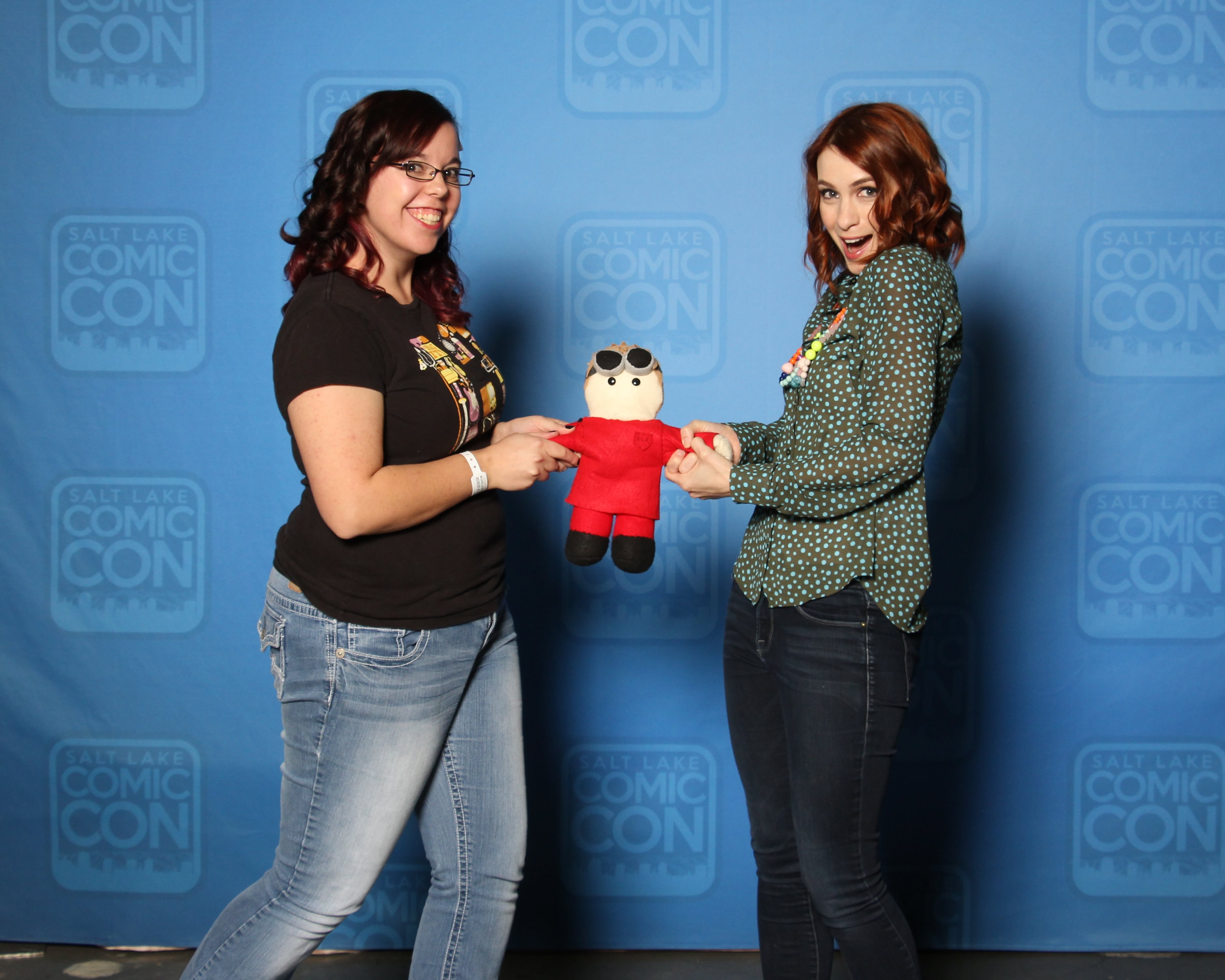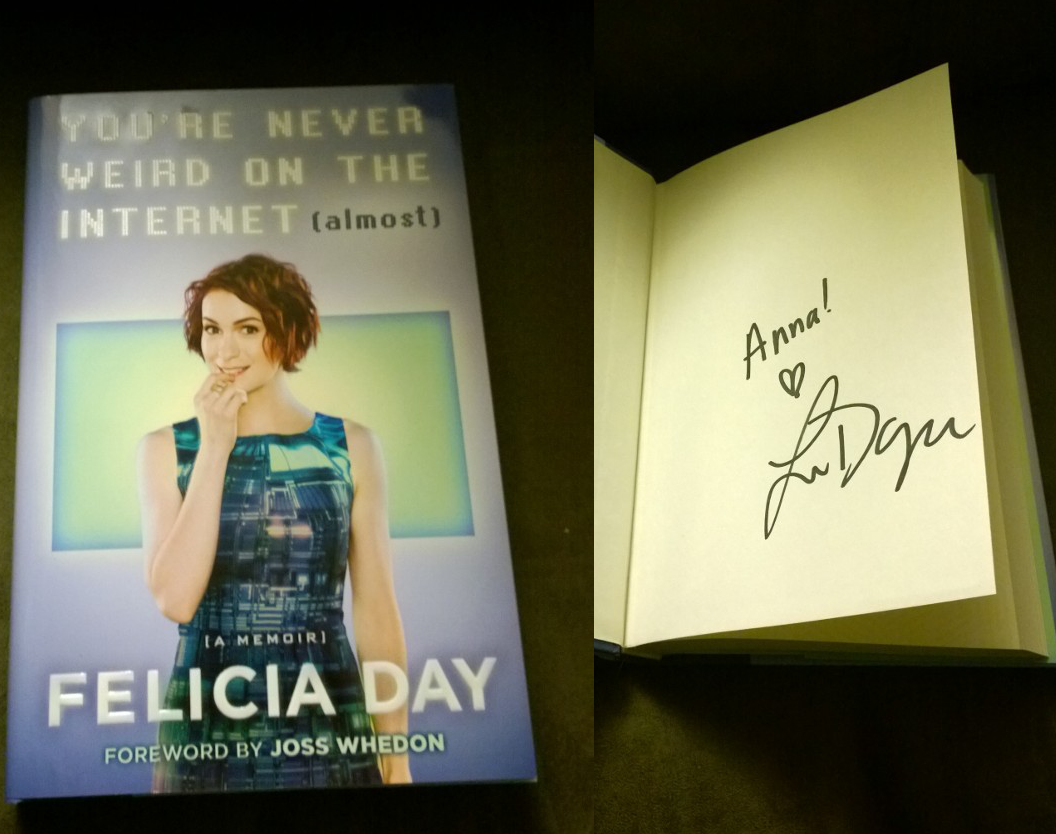 But once again, after the con life ended, I got busy. I got distracted and had a hard time picking up a new book. It wasn't until mid-January that I decided it was time for me to really sit down and read this book. BUT why should I read it, when I could have FELICIA herself read it. I haven't talked about it much, but I'm a SUPER big fan of Amazon/Audible's "Whisper-sync" option. The availability to get Felicia's audio book at a discounted rate, was totally worth it!
Authors reading their own work is one of my favorite things, only to be succeeded by authors reading their memoirs. There is something about the way they reenact their memories that always brings a smile to my face. Felicia is no different. Part of this is that Felicia is one of those in the entertainment industry that I feel could be best friends with just about anyone, and this book made me want to be her best friend.
You're Never Weird on the Internet (Almost) follows Felicia in her journey from home-schooled "weirdo", to geek queen. She talks about the way she grew up, double majoring in math and music (!!!!), moving to L.A. and slowly finding herself in the gaming world through World of Warcraft, in the acting world, and in the internet world. She talks about the growing pains of creating The Guild, Geek and Sundry and the entire web community associated with it.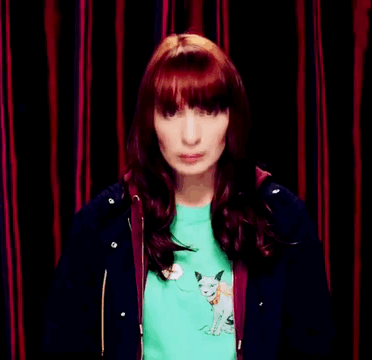 In my favorite section of the book, Felicia talks about her interaction with her fans. She tells stories of meeting people she admires and how she has the same fangirl reactions we do. It's because of this she tries to make sure her fans feel a friendly connection to her when they meet. As someone who did meet her and was able to talk to her, I can say that she succeeds. I only talked to her for a couple minutes, but in those minutes Felicia was awesome job in giving me her full attention.
In addition to talking about all of her growth and success, she speaks about how all of that can cause a different side effect. One that is not so glamorous. She explains how she had handled all of these not so glamorous things. And how trying to handle things in sometimes the wrong ways, led to depression and crippling anxiety for her. Not only is she super real about those, but she explains what steps she has taken to get help. Talking about these things makes he even more relateable to her fans. Additionally, it helps those who are or have dealt with these feelings, not feel alone about it.
Never Weird is incredibly honest and real. As Felicia was reading, I kept thinking that not only does she continue to inspire me, but she also becomes this person that is not so out of reach. She becomes this person that I feel comfortable approaching and not in a "OMG YOU'RE FELICIA DAY" way anymore. There I moments in this book where I felt like Felicia was talking directly to me. It made me want to cry because what she said made me so happy.
FAVORITE QUOTES
"But the heart of my story is that the world opened up for me once I decided to embrace who I am — unapologetically."
"Your qualification for finding a place to belong is enthusiasm and passion, and I think that is a beautiful thing."
"There are enough negative forces in this world– don't let the pessimistic voice that lives inside you get away with that stuff, too. That voice is NOT a good roommate."
BOTTOM LINE
GO BUY THIS BOOK!!! Though I HIGHLY recommend getting the audio book (only $11.99 on Amazon [Affiliate Link]) because it is COMPLETELY worth the money.
---
Have you read this book? What did you think? Are there any other memoirs that you recommend?