#PotterWeek is a link up the last week of July in honor of Harry Potter's (and JK Rowling's) birthdays. Started and hosted by The Common Room, each day has a different theme to explore your history with Harry Potter.
---
PotterPonderings
crackpot theories, symbolism, literary analysis

I see everyone post their head-canons online and I haven't really ever sat down and thought about it, but here are some of my favorites that I've found online.
Most of the ones I really enjoy have to do with the generation after Harry Potter and co, and the Mauraders. Because we never really knew those characters and so it's fun to speculate what those characters are like.

I just laugh every time I think about Harry trying to keep his kids out of trouble.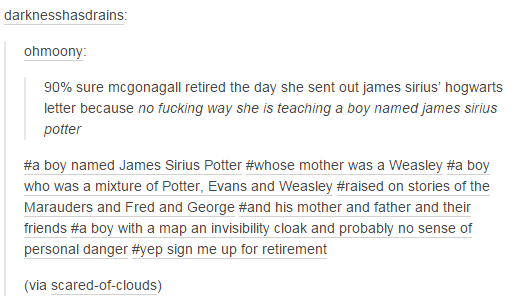 I have no doubt that McGonagall saw the Potters and Weasley's registered and immediately started packing her bags. After dealing with the Mauraders and then the Trio, she tapped out. Or as an alternate idea, she calls all of them into her office and had a Come to Merlin talk about how she wouldn't put up with any of their shenanigans.
Ultimately my favorite head-canons are those of students that weren't in the spotlight.
Such as this head canon:
---
What are some of your theories?
If you'd like to participate check out the orginal post and follow it on social media.
The prompts for the rest of the week are as follows.
July 25th– PotterVerse (origins, meanings, anything language based)
July 26th– PotterPeeps (characters)
July 27th– PotterPonderings (crackpot theories, symbolism, literary analysis)
July 28th– PotterHouse (Pottermore vs your own prediction)
July 29th– PotterParks (experiences, wishlist, more)
July 30th– Potter Powers (spells, charms, races)
July 31st– PotterPotpourri (any posts that don't fit the other topics.)