Currently`
Reading: Transparent by Natalie Whipple
Watching: Psych ` Season 8
Listening To: Right Place, Right Time ` By Olly Murs
[this post contains affiliate links marked with a *]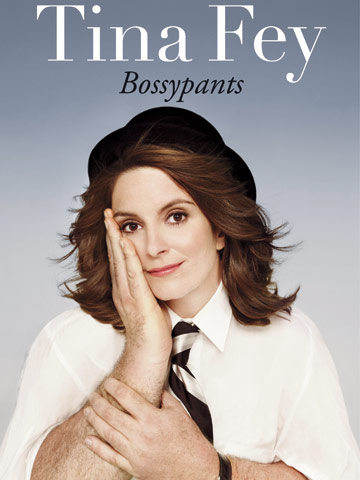 SUMMARY





Before Liz Lemon, before "Weekend Update," before "Sarah Palin," Tina Fey was just a young girl with a dream: a recurring stress dream that she was being chased through a local airport by her middle-school gym teacher. She also had a dream that one day she would be a comedian on TV. She has seen both these dreams come true. At last, Tina Fey's story can be told. From her youthful days as a vicious nerd to her tour of duty on Saturday Night Live; from her passionately halfhearted pursuit of physical beauty to her life as a mother eating things off the floor; from her one-sided college romance to her nearly fatal honeymoon — from the beginning of this paragraph to this final sentence. Tina Fey reveals all, and proves what we've all suspected: you're no one until someone calls you bossy.

(from Amazon.com*)
I don't listen to or read many autobiographies, but I had heard so many good things about this book that I decided to risk it. And by risk it, I mean, I decided to rent the audio book (read by Tina Fey) from the library and listen to it as I cleaned for Christmas and New Years. One of these decisions was a good one, the other a poor choice.
There were moments in this book where I was laughing so hard I had to sit down, thus interrupting any sort of groove I had on cleaning. If you decide to read this book, I highly recommend listening to the audio book and having the book for a reference (she does reference it). Tina has this wonderful way of storytelling that can turn a day around when you start listening or reading. Her inflection and the way that she describes the stories that she's telling prove that sometimes listening to a book can be better than reading it.
In listening to Bossypants, you feel like you're sitting at a breakfast restaurant just gabbing with your girlfriends and one of them just won't shut up. While this is sometimes annoying with your girlfriends, with Bossypants, you actually want to hear all the stories that this friend has to say, so you don't interrupt her, you just listen, laugh and enjoy the story time.
She talks about her times at Saturday Night Live and how much she saw changed in the years that she was there, not only as a writer, but as a performer. Shares her thoughts on beauty, motherhood and how to be a powerful woman in the workplace. She talks about avoiding dieting and creating a show from the ground up and how her relationships and friends helped every step of the way.
Favorite Quotes
"Some people say, "Never let them see you cry." I say, if you're so mad you could just cry, then cry. It terrifies everyone."
"Don't waste your energy trying to educate or change opinions; go over, under, through, and opinions will change organically when you're the boss. Or they won't. Who cares? Do your thing, and don't care if they like it."
"Whatever the problem, be part of the solution. Don't just sit around raising questions and pointing out obstacles."
"This is what I tell young women who ask me for career advice. People are going to try to trick you. To make you feel that you are in competition with one another. "You're up for a promotion. If they go for a woman, it'll be between you and Barbara." Don't be fooled. You're not in competition with other women. You're in competition with everyone."
Plus these two that are really long so I didn't want to post them here.
Bottom Line
Read/Listen to this book. It will make you laugh, make you think, and over all, it will make your day. I highly recommend the audio book read by Tina herself, because I felt it just added a very personal touch and was that much funnier.

Buy the book on Indiebound